Page
FAQ
Back to home
About the Tallahassee Film Society.
The Tallahassee Film Society (TFS) is a 501(c)3 tax exempt nonprofit organization. Incorporated in 1999, TFS was formed for the purpose of bringing foreign and American independent films to the Tallahassee area.
Modeled after other film societies in the southeastern United States, TFS presents films all year around. In addition, we occasionally promote specialized film events and guests.
Directions to All Saints Cinema?
All Saint Cinema is located inside the Amtrak Rail station -
918 1/2 RailRoad Ave.
From the Civic Center (corner of Railroad Avenue. and Gaines) go south on Railroad Avenue.- the rail station will be one block ahead on the right - enter the parking area - the screening room is the last door on the left - look for the All Saints Cinema Banner.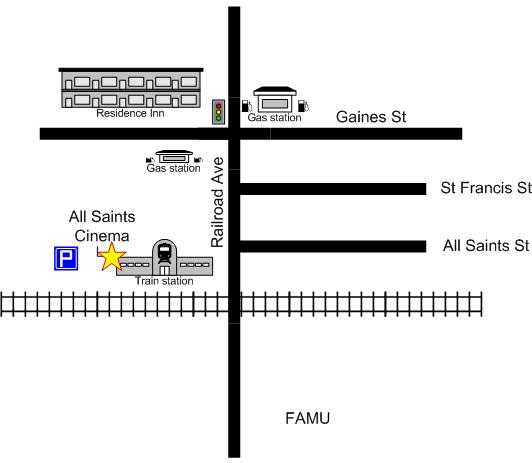 How do I become a member?
Just click on the memberships link at the top of this page and you can sign up there. (Or click here).
I saw a film at a festival, another city, my grandmothers house. How do I get you to show it?
Again simply email us with the information. We try to show many different types of films, but of course we do have to pay for the films. So it does need to appeal to more people than, say, the five Norwegians living in town.